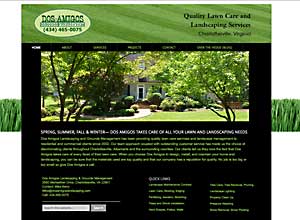 Dos Amigos Landscaping needed a new website design to replace an existing site. The older site was difficult to navigate for potential customers trying to see the types of services that Dos Amigos offers. Additionally, they were very excited at the possibility of having a content management system that would allow them to add photos and edit content on their own. The previous provider had made it difficult to get changes and updates to the site.
Dos Amigos Landscaping has a broad menu of services. EJ Communications streamlined the site structure by reducing the number of services pages from 10 to 8 by combining services into meaningful groupings—annual contracts, lawn care, landscaping, hardscapes, landscape lighting, landscape clean up, pressure washing, and snow removal. And to make it easy to find, each service category appears in a drop down menu when the visitor's mouse rolls over over the services tab on the main navigation bar. Additionally we created "quick links" in the footer of the page that leads people into those services pages, and further refines some of the services.
Part of the selling point of a landscaping and lawn care company is the results of how beautiful they can make your property look. So a slideshow was created for the home page that visually shows some of the services and results for each of the four seasons. Additionally, a projects section was created for showing before and after photo graphs of some of their projects including a Charlottesville City backyard, landscaped steps and a pool & patio landscape project in Albemarle County.
Dos Amigos Landscaping is excited to have a blogging platform where they can add interesting articles about landscaping and lawn care that shows potential customers the breadth of their knowledge and expertise. And of course to give as much material to the Search Engines as possible for improving their search result ranking in a very competitive field. As in every project we do, EJ Communications included Search Engine Optimization in the site build out to help Dos Amigos improve their search results as well.