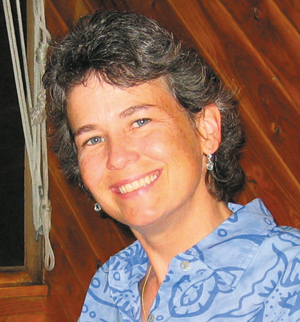 Elizabeth J. McMartin, Creative Director and Principal
For more than 20 years, Elizabeth McMartin, EJ Communications has been creating marketing communications for small and large businesses, non-profits and government institutions. She brings a breadth of experience to each project from working across multiple industries and disciplines.
In addition to graphic design services, EJ Communications provides advertising media management and ad placement services for print, radio, TV and online marketing and advertising.
EJ Communications is an award-winning design firm, with several "Excellence in Design Awards" for print and web from the American Marketing Association, Central Virginia Chapter. Elizabeth has been a member of the American Marketing Association for more than 20 years, and served on the board of the local chapter for 5 years.
Catalog and Direct Mail Marketing
Elizabeth has more than 20 years experience in the consumer catalog industry, providing consult, graphic design and photo art direction for well-known consumer catalogs including Plow & Hearth, Monticello, Gold Violin, Faith Mountain, International AutoSport, and Baseball Direct. Prior to launching EJ Communications, Elizabeth was the Creative Director for International Auto and AutoSport, a consumer mail-order catalog company. She was responsible for graphic design, copy writing, and printing of all communications and marketing materials including: 2 consumer catalog titles; print, radio and TV advertising; newsletter; and direct-mail marketing. She managed the printing and postal distribution of 2.8 million annual catalog circulation. She served as the Creative Director for the start-up of the AutoSport Catalog, which grew from 75,000 to 2.7 million annual circulation in it's first 3 years.
Web Design and Development
Elizabeth has been developing and building websites for more than 20 years. From the early days of HMTL through CSS to the current content management system functionality, Elizabeth creates custom designs that meet the branding needs of each client. In addition, she helps clients with their webhosting infrastructure, as well as website marketing through SEO and Google Adwords. E-mail marketing services including design, programming and deployment are also an important part of today's marketing communications. Website maintenance and management services are also offered, working with sites she builds or the client's own platform.
Editorial and Publishing
Elizabeth brings a strong editorial background to her work with clients from her experience as Group Editor at Kelly Communications, a publishing company that specialized in direct-mail health-related newsletters. She was the founding editor of 2 publications—Medical Benefits and HealthAction Managers. She is a graduate of the Stanford Professional Publishing Course.
Education
Elizabeth graduated with a BA from Sweet Briar College with a Junior Year spent at Washington & Lee University.
Completed the Stanford Professional Publishing Course 1990
Memberships
Member, American Marketing Association (AMA)
Member, American Institute of Graphic Artists (AIGA)
SWAM Certified
E.J. Communications is a SWAM Certified Woman Owned Business Enterprise (WBE) in the Commonwealth of Virginia. Certification #651024