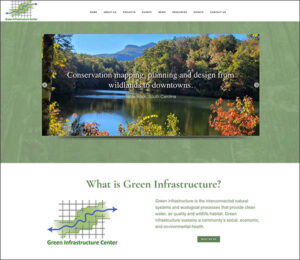 A new website design for the Green Infrastructure Center—
The Green Infrastructure Center, Inc. (GIC) (https://gicinc.org/) contracted with EJ Communications to design and build a new website for their growing organization. GIC was formed in 2006 and in 2022, they still had a website programmed with traditional html. Over the years of adding many new projects and publications to their site, the website became difficult for visitors to navigate the site and find specific information about the work being done at GIC. And because it had been programmed such a long time ago, it was neither mobile-friendly, nor running on the https protocol. These two missing characteristics would cause Google not to rank them as high on search results. Additionally, only one staff person had the technical skills to update the html programming on the site, placing an undo burden for site updates on that one employee.
Working with GIC, we helped them organize their vast content into an organizing principal for the website: dividing their work into three main areas. Then different projects were organized under those 3 topics:
1. Connected Landscapes.
2. Resilient Communities.
3. Green Cities.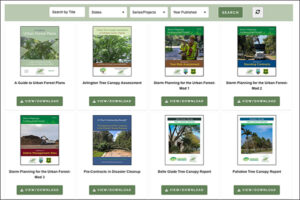 Resources Catalog
Over the years, GIC has produced more than 50 publication/reports, most of them available to the public for viewing and downloading since education is one of the GIC's missions. We wanted to make all these reports available in a central location of the website, and make a searchable database or catalog of all the reports. The publications in the Resources Section of the new site can be searched by topic, by state, and by project series. There is a report detail page, and a link to view and download each report. When there might be a small fee to cover shipping costs for printed versions, we set up a simple paypal interface. Since 2018, EJ Communications has provided graphic design and production services to GIC for these project reports that are delivered to clients at the end of each project. This catalog section for GIC also became a showcase for my print design work, since more than 30 of the reports were designed and produced by EJ Communications. Groups of reports can dynamically populate to appear on corresponding project pages, so a new report is added to the catalog, it automatically gets added to the corresponding project page.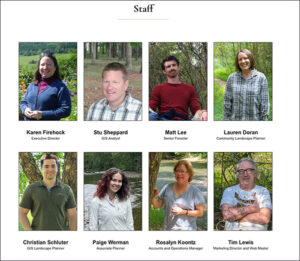 Staff Section
Another specialty section of the new GIC website, was the Staff section. Each staff member has their own profile page, and then a featured image populates to a staff landing page. GIC is a growing organization, so this feature makes it easy for them to add staff bio-profiles to their website as they hire new people.
GIC evaluates green infrastructure assets and creates plans to conserve them. Their team of conservation land planners and designers, geographers and foresters help states, counties, cities, towns, conservation groups and communities tackle critical natural resources decisions and create action plans to preserve those resources. They provide a suite of tools – economic analysis, mapping, and land use planning and asset assessment – needed by communities to protect and restore their natural assets. GIC has extensive experience developing technical communication materials, workshops, training sessions, public meetings and collaborative decision-making processes. They use remote sensing technologies to map land cover to evaluate urban tree cover, large habitat patches, wildlife corridors, wetland changes and marsh migration from sea level rise.
You can view GIC's new website here: https://gicinc.org/